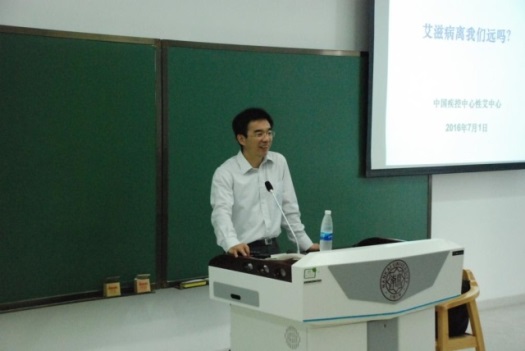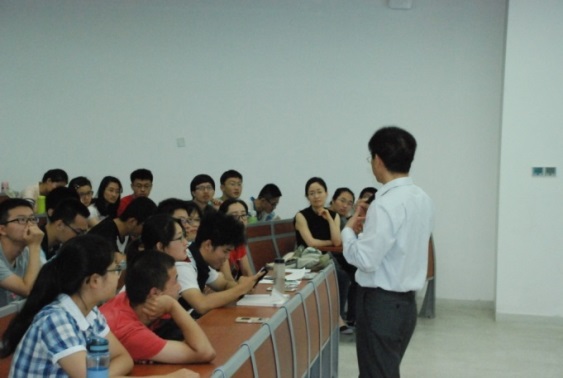 OnJuly 1, 2016, invited by Associate Professor Minying Zhang at theSchool of Medicine, Nankai University, Dr. Zunyou Wu, the researchfellow and director of National Center for AIDS/STD Control &Prevention, China CDC, attended the Summer Forum and delivered aspeech about the prevalence of HIV/AIDS in China and precaution ofHIV/AIDS for young students.
Dr.Zunyou Wu described HIV/AIDS as the "Silent Killer" and explainedsome topics about HIV/AIDS precaution and control. Dr. Wu firstintroduced the general situation about prevalence of HIV/AIDS inChina and worldwide. According to Dr. Wu, the infection rate ofHIV/AIDS in young students in China has been continuously increasedin the past 5 years while most of these cases were sexuallytransmitted. He also talked about some new strategies in globalHIV/AIDS control and progress of HIV/AIDS diagnosis and treatment inChina. He later emphasized on the precaution of HIV/AIDS for youngstudents and answered some questions from students before he visitedlaboratories in the medical school.
Dr. ZunyouWu has published more than 200 research articles in world-classjournals including Scienceandthe Lancet.He was awarded the Gold Medal by the Joint United Nations Program onHIV/AIDS (UNAIDS), and named as a Hall of Famer by the University ofCalifornia-Los Angeles (UCLA) for his outstanding contribution inHIV/AIDS precaution and control.


The themeof the World AIDS Day has been consecutively determined as "Gettingto zero: zero new HIV infections. Zero discrimination" by theUnited Nations from 2011 to 2015.Meanwhile, there are some newchallenges in China's HIV/AIDS control as the number of newHIV/AIDS cases detected in young students has been significantlyincreased in the last few years.
</!doctype>